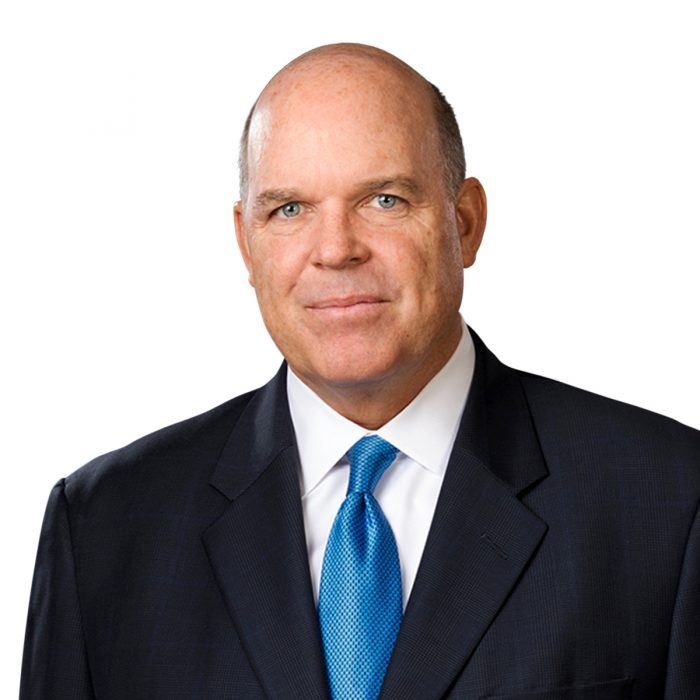 Financial Advisor | Partner
Jeffrey J. Schmeltekopf, CLU, ChFC®, CFP®, AIF® is Co-Owner and Partner of Dean, Jacobson Financial Services, LLC and has been with the firm since 1989. In addition to his role as Owner/Partner and Financial Advisor, Jeff is also the firm's Chief Compliance Officer (CCO). Jeff specializes in the areas of fiduciary responsibilities, investment management, and risk management planning, and has been active in wealth management, financial planning and related areas his entire career. Jeff is a graduate of Baylor University, Waco, Texas with a Bachelor of Business Administration (BBA) in Marketing. He began his career in the insurance industry in 1984, quickly rising to Director of Marketing for Texas Consumer Life Insurance Company in Waco, Texas.
Jeff has earned several professional designations including, CERTIFIED FINANCIAL PLANNER™ practitioner (CFP®), Accredited Investment Fiduciary® Designee (AIF®), Chartered Financial Consultant (ChFC®), and Chartered Life Underwriter (CLU®). He has completed multiple executive education programs at some of the nation's most prominent business and management schools, including University of Chicago, University of Pennsylvania, MIT, Yale, UCLA, Northwestern, and Duke University. Jeff is also a member of several professional organizations including the Financial Planners Association (FPA), National Association of Charitable Gift Planners (CGP), Estate Planning Council of North Texas, and the Society of Financial Service Professionals (SFSP), in which he previously served on its Board of Directors.
Jeff has been recognized multiple times as a "FIVE STAR Wealth Manager" by Texas Monthly magazine* and has earned numerous distinctions and recognitions from investment and financial firms across the nation. He has been a featured speaker on numerous investment, risk management, and financial planning topics at conferences and events all across Texas and nationally, as well as a guest lecturer at Baylor University's Hankamer School of Business and Truett Seminary.
Jeff is the son of a prominent Texas Baptist minister and became an ordained deacon at the age of 28. He is a member of historic Broadway Baptist Church in downtown Fort Worth where he has been involved for over 25 years, serving in numerous leadership and teaching capacities. Jeff is also very involved in his local community, serving on several charitable organizations and advisory boards. Currently, he is serving in his 12th year as Chairman of the Baylor Business Network of Fort Worth and is a charter member of the Board of Governors for the Baylor Club in Waco, Texas. He also serves as Chair of Baylor's Truett Seminary Board of Advocates. Jeff is Vice Chair of the Baylor Scott & White North Texas Operating, Policy and Procedure Board (governing eight major hospitals and health care centers) and also on the Board of Trustees for Baylor Scott & White All Saints Medical Center, serving on its Finance and Ethics committees. Jeff is a past Chairman of the Board of Directors for Junior Achievement of The Chisholm Trail, Inc. (JA) and former Chair of JA's Resource Development committee. He has also volunteered as a Personal Finance, Economics and Business Ethics teacher for JA. Jeff served for 12 years on the Board of Directors for Senior Citizen Services (SCS) of Greater Tarrant County holding the positions of Treasurer and Chairman of the Finance and Investment committees. He now serves on the Community Advisory Council of '60 & Better' (formerly SCS). Jeff is a member of the Board of Directors for the Fort Worth Symphony Orchestra (FWSO) and is Chair of the FWSO Executive Committee as well as Chair of the Endowment Investment committee and co-trustee for the FWSO Endowment Trust. Jeff also serves as a member of the FWSO Finance & Audit, Strategic Planning, and Joint committees, as well as the FWSO Chairman's Council.
Jeff grew up in Burleson, Texas, a suburb of Fort Worth, and has lived in this area most of his life. He is married to Judy, and they have 4 children: Emily (a graduate of TCU and married to Dr. Robert Nichols), Eric (a graduate of Baylor and married to Darian), Charly (a graduate of Baylor), and Ellie (a graduate of Baylor and married to Jonathan). They are also proud grandparents of four grandchildren: Jeffrey Davis Nichols, William Robert Nichols, Noah Edward Schmeltekopf, and Caroline Elizabeth Nichols. When not consumed by work and family activities (especially with their grandkids!), Jeff and his wife love to travel and are enthusiastic supporters of the Fort Worth Symphony Orchestra and Baylor University athletics. Jeff is also an avid golf and tennis player.
*This award is based on 10 objective criteria associated with providing quality services to clients such as credentials, experience, and assets under management
among other factors. Wealth managers do not pay a fee to be considered or placed on the final list of 2012-2017 Five Star Wealth Managers.
Securities and Retirement Plan Consulting Program advisory services offered through LPL Financial, a Registered Investment Adviser, member FINRA/SIPC. Other advisory services and investment advice offered through Dean, Jacobson Financial Services, LLC, a Registered Investment Adviser, and separate entity from LPL Financial.